CHRISTMAS FUNDRAISERS
CHRISTMAS TREE AND WREATH order deadline has passed. Thank you for supporing our Club! Remember to pick up your order on December 2, 2017 from 11am - 2 pm at Wildwood Community Centre - 4411 Spruce Drive SW
There is still time to order your PURDYS CHOCOLATES!!
Springbank Figure Skating Club is fundraising with Purdys Chocolatier, just in time for Christmas! Many thanks to Shauna Gooliaff for volunteering to organize this.
Have a look at the Purdys Christmas Catalogue
If you'd like to support us through purchasing some very sweet Christmas gifts for friends, family and yourself, please click the link below:
https://www.purdysgpp.com/614914
After you've signed in you can buy our amazing chocolates or invite others to join and support our Fundraising Campaign!
Deadline for all orders is November 29th. Please also note you are responsible for picking up all items ordered yourself on Saturday December 9 at Springbank Parks For All Seasons.
Spread the word to family and friends! Thank you for supporting our Club!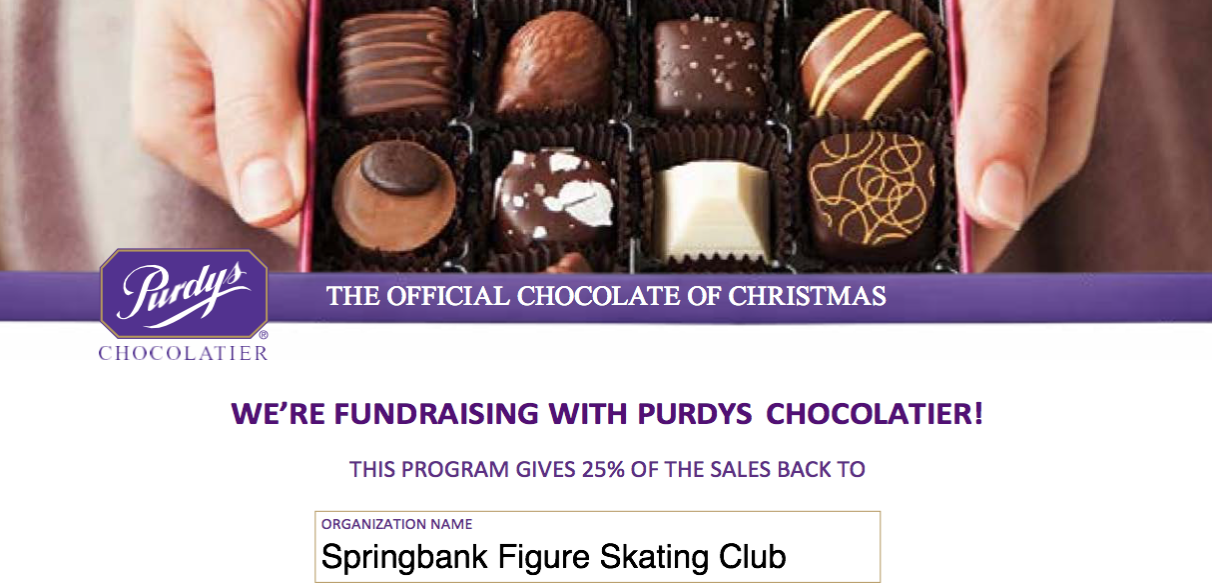 CABIN SOCKS AND YETI TUMBLERS


We have another exciting SFSC fundraiser for everyone to enjoy. Thanks to Rachelle Afaganis for organizing this unique event for us. Please review information below.
We are SUPER excited to be offering personalized "Cabin Socks" and "Yeti Tumblers" for a unique fundraiser. The socks will be available in youth sizes 11-2 and 3-6 and adult sizes. The youth socks will have "If figure skating was easy, they'd call it Hockey". Please check attachments for pictures, pricing and options available for the adult socks and personalized tumblers. They are super cute and make great stocking stuffers. The YETI tumblers are great, they keep fluids hot or cold for a very long time.
We will have someone at the entrance to our ice on Wednesday (Nov 15) from 3:45 to 5:30, Thursday (Nov 16) from 5:00 to 6:15, Friday (Nov 17) from 2:00 to 3:30 and Saturday (Nov 18) from 9:00 to 11:00. We ask that people bring the EXACT CHANGE and an order form (we will have a few order forms). Orders should be ready within 3 weeks for pick-up, details regarding pick-up will be sent out soon.